Skills & drills
Back Scull
This exercise allows you to isolate the last part of the freestyle pull to practice your push. During the back scull, you lay face down with your arms by your side, moving your hands in and out to create propulsion. 
How to do it 


Start on your stomach with your face down towards the bottom of the pool


Your arms are stretched along your side, hand are at your hips


Move your palms in and out, but always keep your fingertips pointed down. It should feel a bit like waving


Lift up your head to breath if not using a snorkel


Focus points


Keep your hands at your hips as much as possible


Point your finger tips down towards the bottom of the pool


Allow your wrists to bend, without relaxing them


Maintain body position – tighten your core


Coach tip

Alternate the back scull with other sculling drills and swimming freestyle. After doing this drill multiple times, you will feel an increased feel for the water and you will feel like you have increased your propulsion during the push.
COACH TIP
Accelarate with every push out. And finish it off complete by scraping your thumb across you thight. You will feel you triceps burning, which is exactly what we want. Make them work!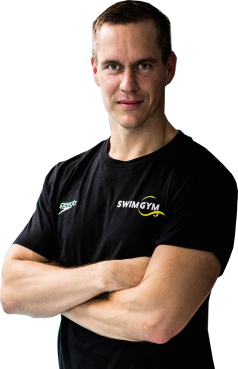 Pre set
3 ROUNDS
distance: 1200
stroke
pace
rest
1 x 100M
Choice
Easy
20s
warm up
2 x 50M
Drill
Easy
20s
drill: as 25 Back Scull + 25 freestyle
4 x 50M
Drill
Easy
20s
drill: as 25 Catch-Up (snorkel) + 25 freestyle

rest after round: 0s
Main set
2 ROUNDS
distance: 2000
stroke
pace
rest
2 x 200M
Freestyle-pull
Negative split
30s
as 100 easy + 100 steady pace
4 x 100M
Freestyle
Steady
20s
4 x 50M
Freestyle-kick
Steady
20s
use fins if needed

rest after round: 60s